Dólmen VII, 1972
Museo Ángel Mateos (Sala 1)
This "Dolmen séptimo A La Libertad", was chosen by Ángel Mateos to be made in large size in his native village, Villavieja de Yeltes. It was built in blocks of crushed concrete, giving it the appearance of carved granite, in homage to the stonemasons, a trade that occupied a large part of the population of his home town, and which he had to learn from a very young age.
It is the most stylised of all the dolmens in this series. With its two towers rising up to the heights, it is reminiscent of those capricious rock formations, eroded over time, in which a granite rock is miraculously supported by a column. It shares with the rest of the dolmens, the constructive character, which could be embodied in those small volumes that serve as shims for other larger ones.
By recreating these simple and fabulous megalithic constructions, Mateos pays homage to and celebrates the human condition and its desire for self-improvement. The sculptor is now convinced that he is making a sculpture that is representative of his time.
Observed from a low viewpoint, imagining that we are at his feet, we raise our eyes and discover it... This is how Mateos begins to see his works, as he perceives their monumental character.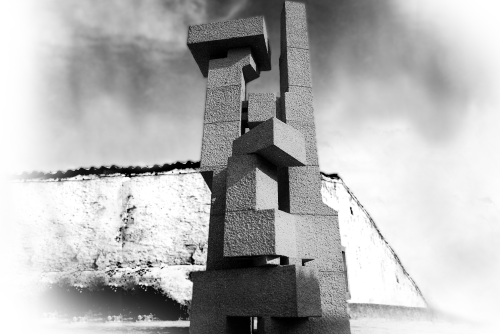 Information provided by Museo Ángel Mateos. All rights reserved.